Eurodubs apparel was first started back in 2011. One year after the Eurodubs.com launch back in September in 2010. We listened to you guys, so we started designing for 2017 season with a clear goal, to cover wider range of car makes and models.
Automotive apparel
To be honest, most of us are driving Volkswagens but Eurodubs as it's name states is not only about Volkswagens but the whole European scene. Considering this, first t-shirts we printed this year were Porsche 911, BMW E30 and Petrolhead.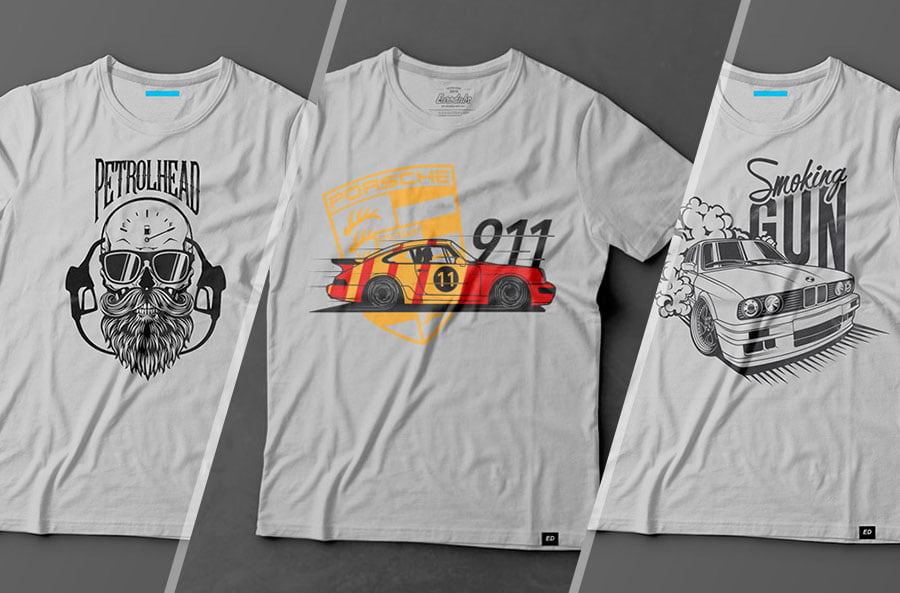 Porsche 964 was chosen next, as it is one of the most popular 911 models and our favorite too. As it is a powerful car, that can not be driven slowly, we had to draw it to look as it was in the middle of a race. And just had to have it in color.
Car Shirts / VW Shirts
After completing these three, we had to create designs dedicated to few more popular Volkswagen models. VW Corrado is well known, you don't have to be a VW fan to recognize it on the street.
In 1980s if you did not like a hatchback (Golf), Corrado was your thing. Built at Karmann factory, designed by Herbert Schäfer. A sport compact car that was designed to replace VW Scirocco.
As we did VW Golf MK1 t-shirt last year, we had a lot of requests for a JETTA MK1 t-shirt, so it had to be done. And of course, Coupe version, that is really hard to find these days, and that's why we love it.
Third VW t-shirt had to be oldschool, and it was easy to pick a model. VW T1 Bus was the only choice. And judging by it's popularity we did not go wrong.
We felt that it's time to release a new Eurodubs t-shirt. At the same time we wanted to bring back our original "ED" logo.
High quality
We want our t-shirts to be your favorite, comfortable to wear at any occasion.  That is why we chose 100% cotton for our t-shirts. You can always recognize Eurodubs apparel by labels on the bottom or on the sleeve  of t-shirt, and one color print of Eurodubs logo on the back.
We wanted to make it easier for you to pick a size, so you can find sizing chart at the bottom of every t-shirt description.